Ashoka Gujarati Methia Mango Pickle 500gm
Base price :
€0.76
per
100g
About Product
Ashoka Gujarati Methia Mango Pickle is a tasty preparation of fresh mangoes and methi seeds (fenugreek) blended with traditional Indian spices. Traditionally served as an accompaniment to Indian meals. It is 100% vegetarian with no preservatives, gluten free and ready to eat.
Storage & Use:
Ashoka Pickles are just as good with cold meats, salads, sauces, breads and a whole lot more. Store in a cool and dry place.
Ingredients:
Mango (63%), sunflower oil, salt, mustard, chilli powder, fenugreek, acetic acid, turmeric powder, asafoetida, (wheat).
Nutritional Values: The nutritional values of Ashoka Gujarati Methia Mango Pickle may vary based on the specific ingredients and the serving size. Pickles are generally low in calories, but they can be high in sodium and spices.
Allergen Information: Gujarati Methia Mango Pickle contains mustard seeds (methia), which can be an allergen for some individuals. Additionally, it may be processed in facilities that handle other allergens. If you have allergies or dietary restrictions, it's essential to check the product label for specific allergen information.
Regular price
Sale price
€3.79
Sale
Sold out
Brand: Ashoka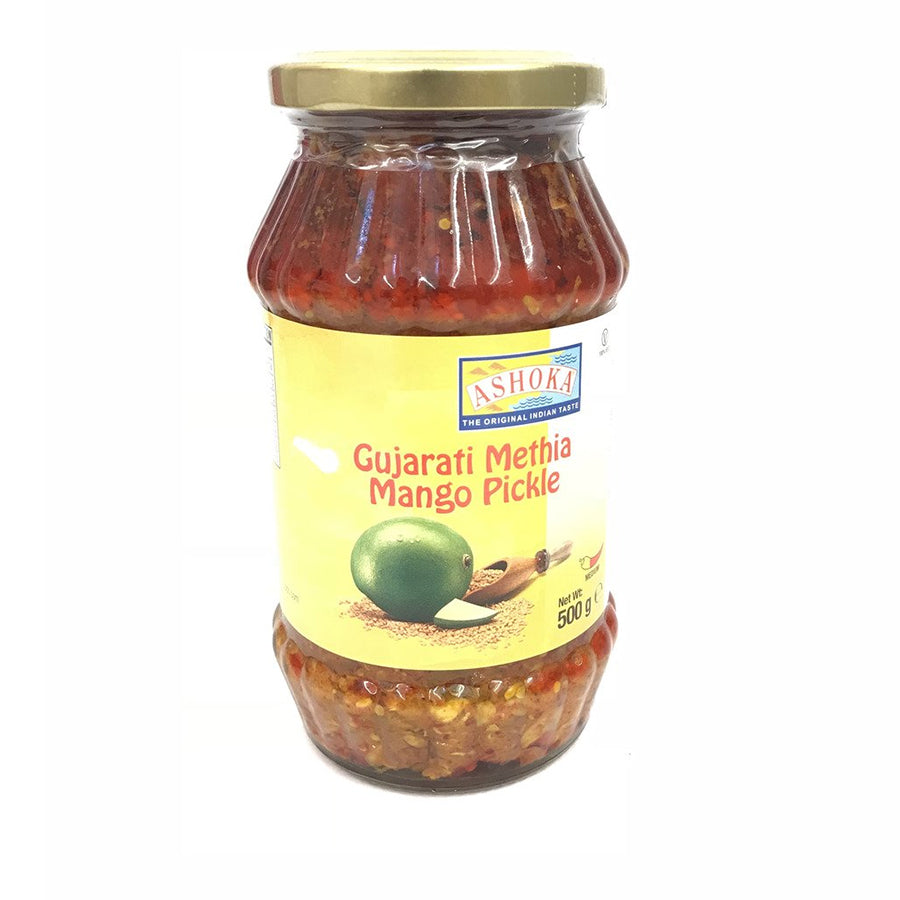 Free Shipping
On Order Over €34.99

Same Day Delivery
Monday Same Day Delivery in Berlin

Secure Payment
100% Secured Payment Gateways

Customer Support