MTR Cup Khatta Meetha Poha 80gm
Base price :
€2.49
per
100g
About Product
MTR Foods Cuppa Poha is an absolute treat for people who love to eat light and healthy snack. The poha or de-husked rice is extensively eaten all over the country with great joy and pleasure. It provides a wholesome eating experience. MTR khatta meetha poha has a sour and sweet taste to it.
Nutrient: Protein(5.6g), Carbohydrate(59.2g), Added Sugar(7.42g), Dietary Fibre(2g), Total Fat(7.92g), Saturated Fat(4g), Mono Unsaturated Fatty Acid(2.72g), PUFA(1.2g), Trans Fat(0g), Cholesterol(0mg), Sodium(640mg)
Ingredients: Rice Flakes(64%),Sugar, Edible Vegetable Fat - Interesterifield(Made Form Palm Oil And Palm Kernel Oil), Peanuts, Salt, Dehydrated Oninon Flakes,Raisins, Green Chilli,Curry Leaves, Tumeric, Dry Mango Powder,Cumin,Mustard, Maltodextrin And Acidity Regulator (Citric Acid (Ins 330) And Tartaric Acid (Ins334)).
Allergen: This product is made in a facility that processes foods containing peanuts, Tree nuts,soy,Milk, Wheat & sesame.
Storage: Store in a clean and dry place
Weight: 80g
Origin: India
Regular price
Sale price
€1.99
Sale
Sold out
Brand: MTR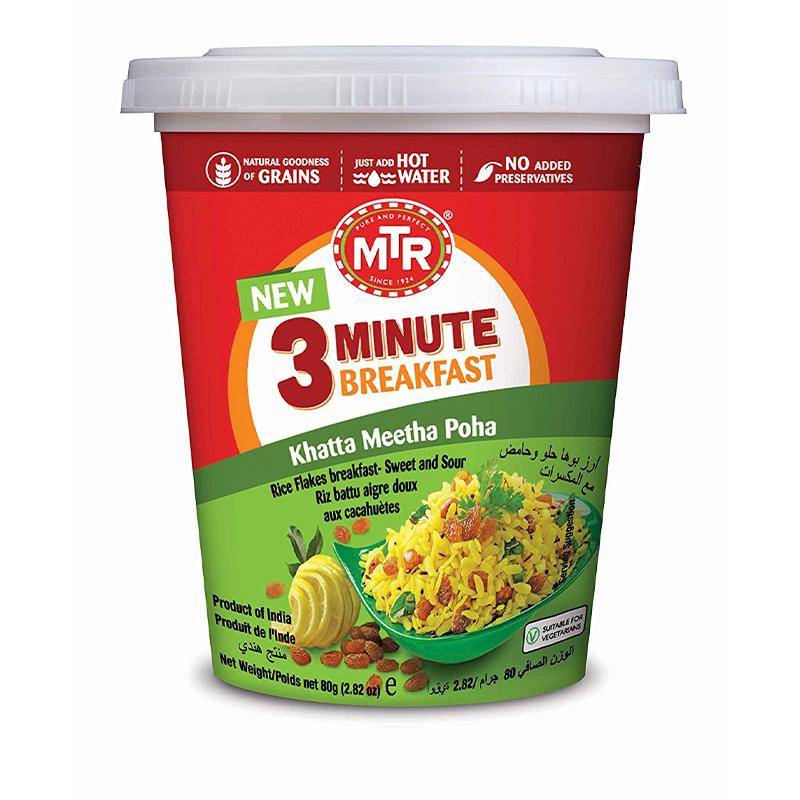 Free Shipping
On Order Over €34.99

Same Day Delivery
Monday Same Day Delivery in Berlin

Secure Payment
100% Secured Payment Gateways

Customer Support