Wagh Bakri Ginger Instant Premix Extract Tea 140gm
Base price :
€3.21
per
100g
About Product
Introducing Wagh Bakri Instant Ginger Tea Premix, a delightful beverage that combines the invigorating taste of ginger with the rich flavours of tea. Made with premium quality ingredients, this instant premix offers the perfect blend of convenience and indulgence. Simply add hot water to enjoy a comforting cup of aromatic ginger tea in an instant. The natural warmth of ginger combined with the soothing qualities of tea create a truly refreshing experience. Whether you need a quick pick-me-up in the morning or a relaxing drink in the evening, Wagh Bakri Instant Ginger Tea Premix is the perfect choice. Embrace the invigorating power of ginger and savour the delightful flavours with every sip. Elevate your tea-drinking experience with this flavorful and convenient premix that brings together the goodness of ginger and the richness of tea.
Nutrients: Fat (10g), Saturates(5g), Carbohydrates(81g), Sugar(68g), Protien(5g), Salt(165mg).
Ingredients: Sugar, Creamer(Whey powder(from milk), Skimmer milk Powder, Milk proteins, Stabilizers(E451), Anticaking Agent(E551), Black Instant Tea & Natural Ginger Flavour.
Allergen: NA 
Storage: Store in a cool and dry place.
Weight: 140g
Origin: India
Regular price
Sale price
€4.49
Sale
Sold out
Brand: Wagh Bakri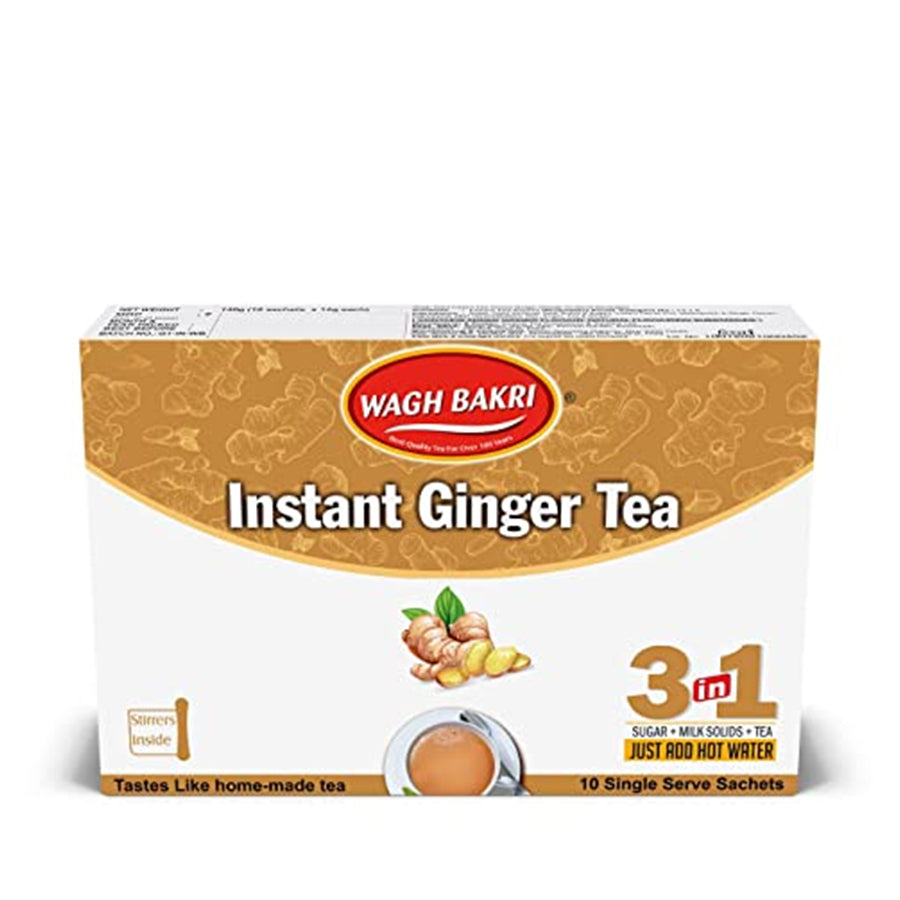 Free Shipping
On Order Over €34.99

Same Day Delivery
Monday Same Day Delivery in Berlin

Secure Payment
100% Secured Payment Gateways

Customer Support